Customs declarations
You can send your customs declarations electronically, directly to the Customs office, at any time, from anywhere. All you need is a web browser and a functioning internet connection. Use previous declarations as templates and fill in any new information with ease.
We manage the connection between you and the Customs office. The declarations service automatically validates your declarations which greatly reduces the amount of erroneous declarations. A reliable customs declaration software is an investment that pays for itself several times.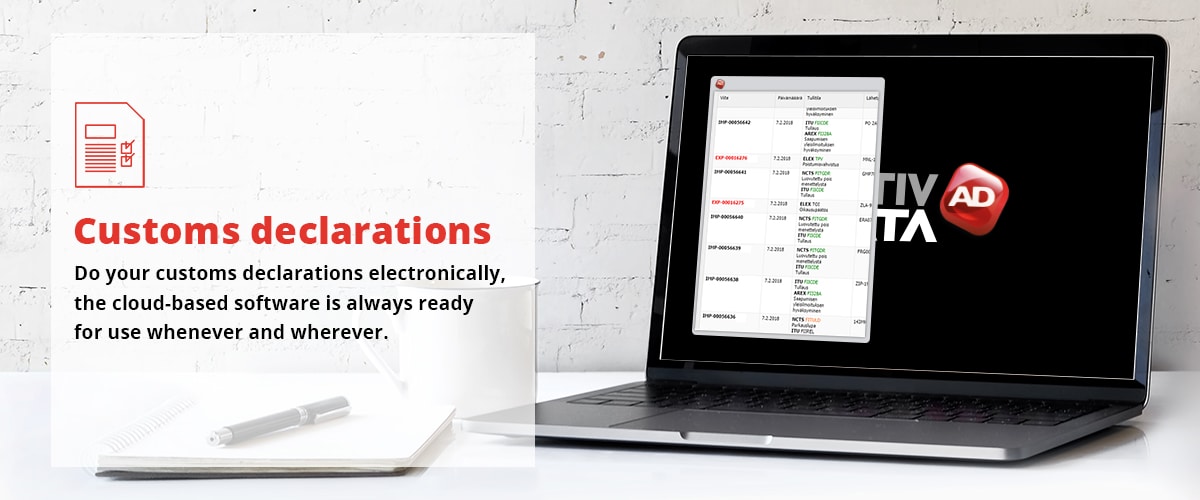 Become the best at customs clearance
The electronic declaration of goods is done easily and safely through an encrypted connection
Replies from the Customs office are automatically updated to the system
Handy search functions facilitate billing and other tasks
Exchange rates and clearance code indexes are automatically updated
Electronic Export Declarations (ELEX), Import Customs Clearance (ITU), New Computerized Transit System (NCTS) and Safety and Security Declaration Service (AREX) are handled through the same system
Our cloud-based service is always ready to use and available in your web browser
Our support team gets you started
The customs declarations service is also available as a separate module. We guide you through the transfer to nTrax and make sure that everything functions as intended, which speeds up the start-up process. A designated contact person will answer all your questions regarding nTrax and customs declarations.