Upgrade your company with nTrax
nTrax is a cloud-based solution for freight forwarders gives you access to the top technology in the market. Perform all shipment and logistics related tasks right in your web browser from anywhere, at any time.
nTrax is the result of long-term development and covers all administrative needs that you may have as a freight forwarding agent.
With nTrax, you can print forwarding documents, handle electronic customs declarations, as well as take care of warehouse accounting and billing. Forget about time-consuming repetitive tasks – you only need to input your data once into the system and it will automatically pass to invoicing, customs declarations and warehouse accounting. Additionally, nTrax includes versatile search functions that make your work even easier.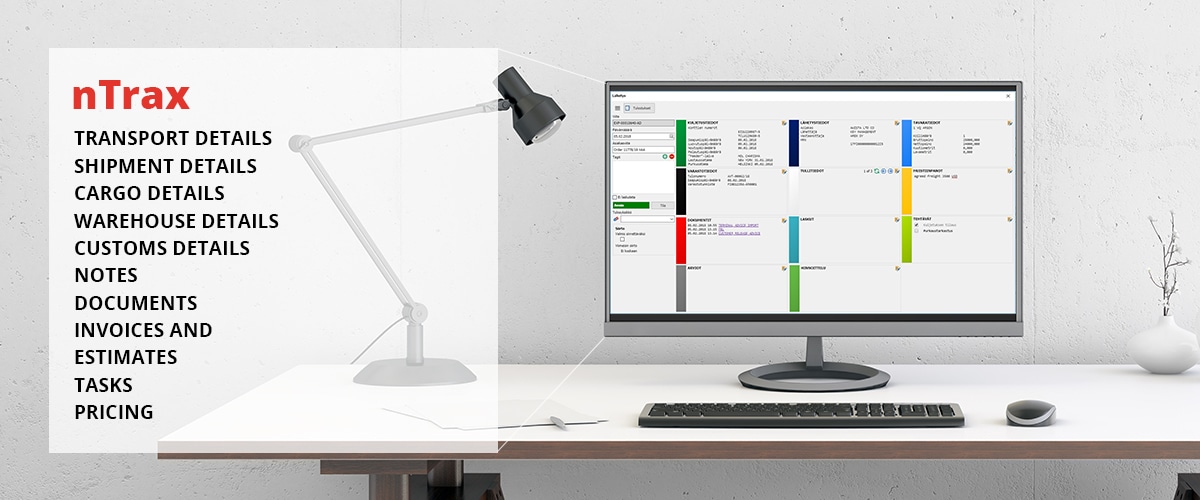 nTrax is a smart solution
Our cloud-based system is accessed directly from the web browser, which makes your work more flexible and efficient than ever before.
An outstanding quality-price ratio: our monthly fee includes maintenance, backups and software updates.
Minimizes the need for IT personnel or support within your company.
nTrax is safe to use. You always have the most updated version available. The connection between your web browser, our servers and the Customs office is encrypted in accordance with the HTTPS protocol.
Increase your productivity with nTrax
Our cloud-based service is updated in real time. There is no need for you to worry about installing, updating or maintaining your own system. Your data is automatically backed up on our servers. Any information entered into an nTrax module is integrated with the rest of the system and is easily filtered by task and type. Keeping track of costs and earnings is easy, since nTrax saves all of your tasks and invoices. The system has practical search functions that save both time and patience.
nTrax is easy to start using, which is great for new users, temporary workers or summer workers. We can also arrange training when necessary. Our help desk is available in case anything unexpected happens, and you always have a designated contact person when you need help or support.